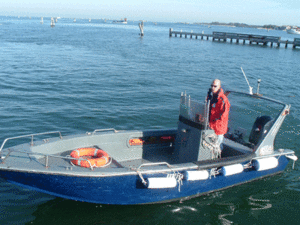 The Hydrobiological Station is also equipped with a 5.8-m boat with 100HP motor, a cruising speed of 24 knots, and a cruising range of 80 nautical miles. Licensed to carry 7 people, it is authorised to cruise within 6 miles off the coast. In addition to both the usual safety equipment and the one required by the Capitaneria di Porto (Maritime and Coastguard Agency) of Chioggia, the boat is fitted with GPS chartplotter, sounder abd Radar. The boat may only be driven by the Laboratory personnel, and trips must be booked in advance, weather and sea permitting.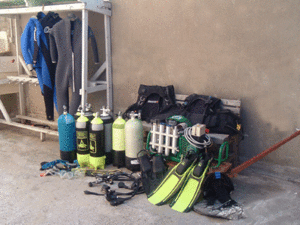 The Hydrobiologic Station offers assistance to students and researchers carrying out underwater research. It provides weight belts, weights and 10- and 15-litre tanks which are air compressed by the Laboratory personnel. Divers must be licensed and have their own gear like wetsuits, masks, snorkels, fins, buoyancy compensator vests and dive computers. In special cases, the Laboratory may provide part of the gear. Support activities to diving include use of the boat and must be booked in advance by calling the Laboratory personnel.
Next to the Hydrobiological Station is a comfortable guesthouse with a lounge and 3 bedrooms accommodating a total of 10 persons. Guests can prepare their meals in a fully-equipped kitchen. Access to the guesthouse must be authorised by the Laboratory supervisor and is usually granted to students and researchers of Padova University. Visiting scientists and external collaborators should contact technicians of the Hydrobiologic Laboratory.